What is a Texas Registered Agent?
A Texas registered agent is appointed by a business to accept service of process and legal correspondence on behalf of the company. It is legally required by state law. All registered agents in Texas must have a physical address where certified mail can be delivered during regular business hours.

| | |
| --- | --- |
| | |
|     The building we own in Austin TX                        where we receive your legal mail. |   A member of our team hard at                         work in the office! |
Lone Star Registered Agent Service:
$50 Per Year (Our Price Never Goes Up)
Texas Business Address  
Because we own our own building, we can protect your privacy by listing our address on your TX business filings instead of your own.
Free Mail Forwarding
Up to 3 regular mail scans each year, in addition to all of your legal mail.
Virtual Phone Numbers
Sign up for registered agent service and get 60 free days of Phone Service for your business.
Fast
Same-day document scans of all service of process and business mail.
Reminders
Never miss a deadline. We remind you about annual franchise taxes and make sure you are always in compliance.
Transparent Pricing
No hidden fees or cancellation fees. Ever.
Helpful
Our friendly (and funny) customer service comes from bona fide Texas business experts.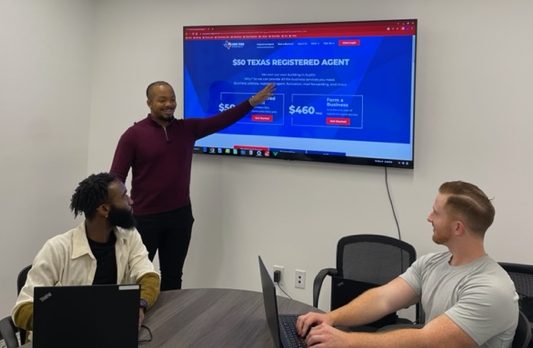 We know that you have an endless number of choices when it comes to designating a Texas registered agent service. That's why at Lone Star Registered Agent, we aim to give you everything you need and none of the things you don't. Unlike other services, we don't try to upsell you with add-on products that aren't required. We don't lure you in with one low price only to jack it up later next year. Instead, we offer two promises: one of the lowest prices in the industry and the best customer service you can find.
Legal Duties of a Texas Registered Agent
Every Texas Registered Agent is required by law to fulfill certain duties for their clients.
As your agent, we must:
Maintain a physical location within the state where certified mail can be accepted
Keep regular business hours
Accept service of process and official mail on your behalf
Notify you whenever we accept documents on your behalf
Forward documents to you in a timely manner
Can a business be its own registered agent?
No. Section 5.201(b) of the Texas Business Organizations Code forbids a company from acting as its own registered agent.
How do I change a Texas registered agent?
You can change your Texas registered agent anytime by filing a Statement of Change of Registered Office/Agent form with the Texas Secretary of State's office. There is a $15 filing fee. Processing takes three to five business days with the SOS but can be expedited for $25. If you are changing agents to us, a Statement of Change can be found in your online account after you sign up for service. It is ready for you to file, or we can file it on your behalf.